In December we had a new recruit, Bastiaan Florijn start with us and here we get to know him better with some random questions thrown into the mix…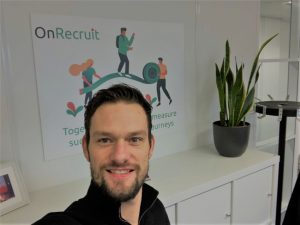 Nickname: The short version of my name, Bas
It's possibly too early to say but what's your favorite moment since starting at OnRecruit?
The welcome I had really stood out to me. Every colleague takes time for me and management is a true facilitator. It's a nice feeling to be able to reach out and get information when needed.
What attracted you to OnRecruit originally?
The space OnRecruit has in the market. Making use of data in recruitment is something I really believe and OnRecruit is a perfect match in that sense.
What would you do (for a career) if you weren't doing this?
Probably something IT-related. I have a big interest in tech in general and I like to work with/for clients.
The best holiday you have been on and why?
About 3 years ago my sister in law married in Italy. It was very unique to experience that abroad with my family for a whole week.
What's the craziest thing you have done?
The craziest thing I guess bungee-jumping. Did it 3 times and the adrenaline rush you get is indescribable.
What's something you have always wanted to try but never have?
Road trip in one of the continents outside of Europe.
What do you like to do on your days off?
I like to spend time with my fiancé, family, and friends. I have a lot of hobbies so I try to mix them up a lot. From playing table tennis and dart to watch a game of football in the Arena (Ajax)
What is the first concert you attended?
Sziget. A whole week with concerts on an island in Budapest. The Killers were my favorites.
When are you most happy?
When my loved ones are healthy and Ajax is leading the Eredivisie😉.
If you could be anyone from any time period who would it be and why?
Elon Musk. He is such a modern-day pioneer. The boundaries he pushes and what he's accomplished thus far is truly remarkable to me.
If you could witness any historical event, what would you want to see?
The Dutch national team winning the euro's in 1988, I was 1 year old at the time so not really able to experience it.
If you want to get to know the rest of the team and see what we are up to, you can register for our newsletter below!